PVP K30 K17 K15 K25 K90 CAS 9003-39-8
Product Detail
Product Tags
Product Name: Polyvinylpyrrolidone
CAS: 9003-39-8
Molecular Formula: (C6H9NO)n
Molecular Weight: 111.143
Synonyms: Polyvinyl pyrrolidone;Povidone;PVP;PVP-K;PVP-K17;PVP-K25;PVP-K30;PVP-K90
PVP K30 Powder CAS 9003-39-8 is a hygroscopic polymer,exists in white or creamy white powder, with molecular weight ranging from 45000 to 58000.It's easily soluble in water and many other organic solvents,with excellent hygroscopisty,film-forming,adhesive,chemical stability and toxicological safeness characters.
Specification of PVP K30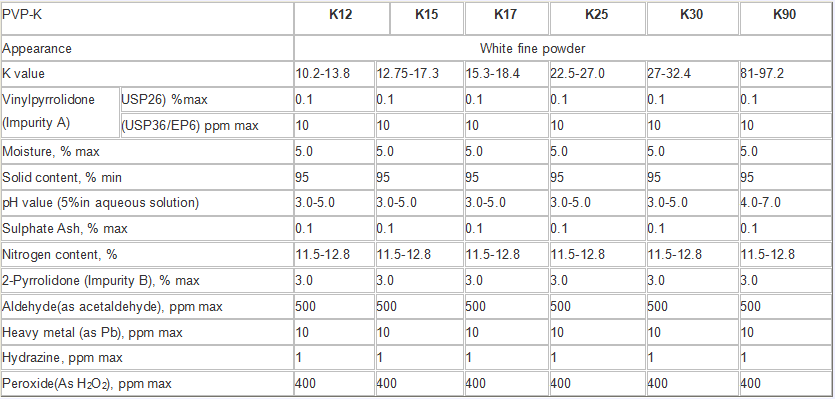 Application of PVP K30
In Pharmaceutical Industry
PVP-K possess excellent adhesive,film-forming,dispersing and thickening properties,and are widely used in the pharmaceutical industry.
Low molecular weight PVP-K

, often used as a solubilizing agent, crystallization inhibitor and suspension stabilizer in injection and ophthalmic formulations such as PVP K12,K15,K17.
Medium Molecular PVP-K

, often used as binder in tablets,capsules and granules, as a stabilizer for oral suspensions,film-forming agent,solubilizing agent, dispersant for pigments, as an enzyme stabilizer and to improve bioavailability such as PVP K25,K30.
High molecular PVP-K

, as highly effective binder, often used as stabilizer in oral and topical suspension, as a thickener, hydropylizing agent such as PVP K90.
In Cosmetic Industry
PVP-K are used widely in a wide range in hair care, skin care & oral care products.The products are particularly suitable for formulations where viscosity modification and film forming properties are required. PVP-K products are particularly suited to hair styling products. The medium molecular weights such as PVP K30 are preferred where viscosity is critical in applications, for example, spray. The higher molecular weight products such as PVP K90 are the best choice where high viscosity are required in applications. PVP-K is widely used in cosmetics as followings
   *Liquid hair setting preparations
Industrial Application
   * Suspensant, disperser and emulsifier                          
   * Glass fiber
   * Detergent                                                              
   * Plastics and resin
   * Textile dying and printing                                         
   * Film and adhesive                                                                
   * TV tube
Packing of PVP K30
25kg/fiber or cardboard drum
9000kg/20″FCL (unpalletised / palletised) (18drum/pallet)
---
Previous:
Copper Pyrithione CAS 14915-37-8
---
Write your message here and send it to us